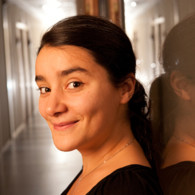 Assia Mahboubi is an Inria permanent researcher, in the Gallinette team, and an endowed Professor at the VU Amsterdam, in the Department of Mathematics.

Assia's research focuses on the foundations and formalization of mathematics in type theory and the automated verification of mathematical proofs.

She is one the main developers of the Mathematical Components libraries and author of the book by the same name.

Assia received her MS and Ph.D. from the École Normale Supérieur de Lyon and Nice-Sophia Antipolis University, France.
Talk : Introduction to Coq, Monday Jan 6, 14:30 PM – 16:00 PM / 16:30 PM – 18:00 PM
Personal website : http://people.rennes.inria.fr/Assia.Mahboubi/